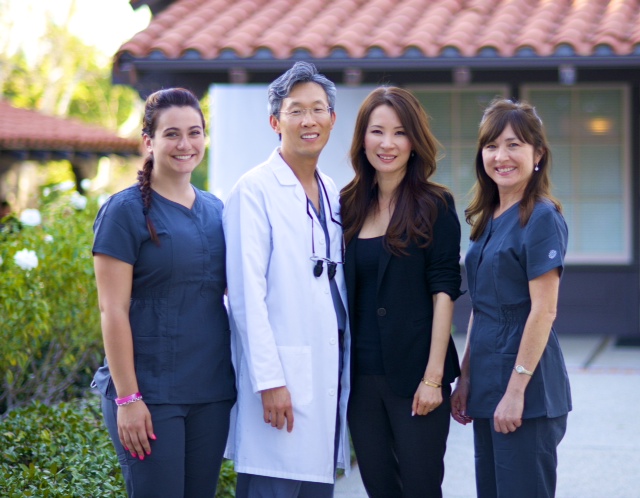 Edward Moon, DDS
 Dr. Edward Moon is committed first and foremost to your best interests and how your dental health and smile affect your life. He believes every patient has the right to be an active participant in deciding on the right treatment. There's no cookie cutter approach that works for every patient.
Dr. Moon enjoys working with patients of all ages, from 3-year-olds to the elderly. Working with such a variety of needs keeps him aware of how dental health evolves with the individual. He's also a life-long learner and studies advanced dentistry on a continuous basis.
Dr. Moon graduated in 1995 from Loma Linda University School of Dentistry, but he doesn't believe his education stopped there. New technology, advancing science, and changing methods and materials are all a part of his continuing education philosophy. He's uniquely prepared to offer the right combination of treatment and methods depending on each patient's unique needs.
Dr. Moon's philosophy is to get to know each patient, understand each person's needs and wants, and then apply the best methods. The result? A beautiful, healthy smile that lasts a lifetime.
Meet Our Team
Dr. Edward Moon and our entire team are eager to meet you. We have been providing dental services in the Mission Viejo, California, area since 1995. We are dedicated to ensuring that you have a positive experience at our office, and to making you a part of our family. To meet our team members and schedule your appointment, call us today at 949-348-1212.
Jennifer, Office Manager 
Jennifer manages all the operations and is the face of the practice. She and Dr. Moon have been married for almost 20 years and they are raising their two beautiful daughters, Erin and Lauren. Jennifer studied nursing at Loma Linda University and is a registered nurse by profession. She is genuinely passionate in her caring for others and it shows every day in how she provides compassion and personal care to each and every patient. Jennifer's gift is in the relational aspects of the practice and she is always willing to go the extra mile to provide the best possible care and outcome in service to our patients. She prides herself for remembering ALL her patients by their name and not one person is left unknown. Away from the practice, Jennifer enjoys cooking and indulging in the culinary world. And, her primary devotion is to her church and serving in various ministries and prayer groups.
Debbie, Registered Dental Hygienist
Debbie grew up here in Orange County and started her career as a registered dental assistant where she quickly discovered her passion for dentistry. Debbie took that passion and furthered her studies in dental hygiene, graduating from USC. She has a sound background in science and patient care and is always eager to meet, educate, and guide patients in reaching their oral health goals. Debbie has a calm, compassionate way of listening and offering care that makes patients feel completely at ease in her presence. Debbie actively enjoys most sports and especially loves a game of smash ball and swing dancing. Typically, you can find Debbie enjoying a day at the beach or offering support and service in her church. She is a proud Mom of her only child who is currently serving in the Navy.